Xtend Voice Logger
Standalone Voice Logger is a full-fledged, dedicated, rack-mountable logging device with an inherent computing power and storage capability, and consists of all the necessary components to implement voice logging solutions conveniently. Typically a Standalone Voice Logger requires only the necessary power supply, telephone lines to log and an ethernet connection.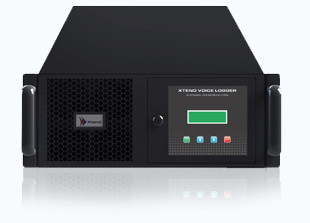 Features
Supported Communication Technologies
Besides, a combination of all the above mentioned technologies could be integrated in a single Xtend Voice Logger. Even then, the Xtend Voice Logging software shall treat them as a single unit and details can be retrieved and reports can be generated in a single user interface. This user interface can be configured on any voice logging device depending on the requirement, if multiple Standalone Voice Loggers are to be installed.
Just like the other models of Xtend Voice Logger, standalone model is a passive logger that does not tamper with the voice quality or the signalling system. Again, no change is required in the existing system configuration to install this model of the logging system.