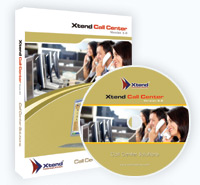 Xtend Call Center Solutions is a powerful and feature-rich multi-channel call management solution designed to optimise the handling of inbound and outbound calls in an organisation. Interactive Voice Response (IVR), Automatic Call Distribution (ACD), process/ campaign management, call notification popup, live dashboard and supervision, voice recording, conferencing, Do Not Disturb (DND), real-time and historical reports, skill based transfer, free seating, external CRM integration capabilities and much more are available.
Xtend Call Center helps to handle bulk calls easily and route calls evenly. Customised IVR messages can be set to greet customer on regular days, holidays, etc. Voicemail can be set when an incoming call is on-hold for specific duration. View abandoned list instantly, track agent occupancy, review handling duration and interactions to quickly improve operational efficiency and bring down the call abandoned rates like never before. Overall call status can be viewed through dashboard. Advanced phonebook feature allows user to update customer related information in real-time and saves it for future reference.
Xtend Call Center Solutions can also be utilised as a powerful telemarketing tool to promote various offers and value added services to customers. Implementation of the automated computer telephony integrated application leverages the call center capabilities and thereby enhances customer satisfaction resulting in increased revenue opportunities.
All-in-one Complete Call Management Platform
Inbound Call Center Solutions
Inbound Call Center Solutions provide full-fledged features to process the incoming calls with extreme ease. IVR, ACD and skill-based routing completely controls the incoming calls and ensures that the calls are managed effectively and efficiently by appropriate agents to provide the best customer interaction.
Beneficial for:
Automatically attends and routes incoming calls
Handles customer requests quickly
Facilitates smooth helpdesk management
Full-fledged reports of incoming calls are available to the Supervisor, thereby allowing them to analyse agent performance, productivity and streamline call center operations to a large extent. With proportional routing, call processing time is faster and call center agents can deliver highly personalised experience to customers.
Outbound Call Center Solutions
To achieve maximum productivity, the outbound call center offers the capability to dial-out to large number of customers - all automatically. Equipped with innovative features, the system enables to handle the outbound telemarketing and promotional needs with utmost ease and convenience.
Beneficial for:
Telemarketing services
Lead management
Notifications/announcements
Predictive dialing, lead dial-out and push dial-out methods are available. Supervisors can view the real-time status of the outbound dialing, they can add, modify or delete process/campaigns, record the interactions and view the comprehensive reports. Outbound calls can also be connected to an agent for an elaborate assistance.
Full-fledged call details, recordings, auto-callback and outbound dialing helps to deliver consistent, professional experience and enhance customer satisfaction, all using Xtend Call Center Solutions.
Technical Diagram