Xtend Voice Logger
Digital Trunk lets you record details of calls on E1/T1 (ISDN PRI / R2MF) lines. In essence, these are voice card based loggers that integrate well with the products of PIKA, Ai-Logix, Synway and Eicon / Dialogic Diva Server.

As mentioned above, our digital model is flexible enough to log digital trunk lines. Some of the digital PBXes supported by Xtend Voice Logger are enlisted below.
Xtend Voice Logging solution works with voice cards manufactured by Ai-Logix. The following picture helps you to figure out the configuration of Xtend Voice Logger with Ai-Logix voice cards.
A diagrammatical representation of connecting Xtend Voice Logger into the existing circuit is given below. We require 2 numbers of Dialogic Diva Server voice cards to implement voice logging on ISDN PRI E1.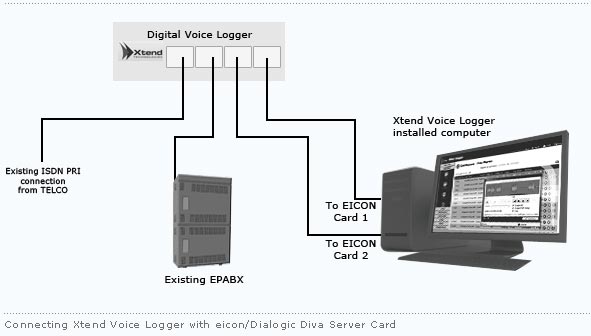 Just like the other models of Xtend Voice Logger, digital model is a passive logger that does not tamper with the voice quality or the signalling system. Again, no change is required in the existing system configuration to install this model of the logging system.
Apart from hardware, Xtend Voice Logging Solution software needs to be loaded to generate the reports and details of logging. For the same, we require an ordinary PC with 2+ GHz processor capability and atleast 80GB hard disk storage space to store the voice logs. Windows XP Professional/2000/2003 Server operating system with a minimum of 512 MB RAM is required for proper functioning of the system. A CD/DVD writer avails to store backups whereas a Network Interface Card serves to access remotely the browser-based interface.